Castor oil is a type of non-edible vegetable oil collected from the seeds of a perennial plant called Ricinus communis of the Euphorbiaceous family. It has a long history, and the seeds of castor bean have been found in Egyptian cemeteries built around 4000 BC. Cleopatra, one of renowned historical figure in the history, mentioned that castor oil was used as beautification, and it is used as a basic cosmetic because of its high moisturizing power. Castor oil powder has had a thousand years of history in our society.
It is used as a traditional medical treatment in Ayurveda in India, and it is also described that it has been used as a laxative and a light since about 2000 BC. It is used to care for hair loss and breast milk in the Middle East, and it is said that it was introduced to Japan around the 10th century from China.
Applications of Castor Oil
Although it has a high viscosity as a vegetable oil, index suited as a machine oil and was also used as a lubricating oil for early aircraft engines (The famous Castrol's name is Derived from the English name (castor oil) of castor oil). It was also used as engine oil for Zero fighter aircraft during World War II.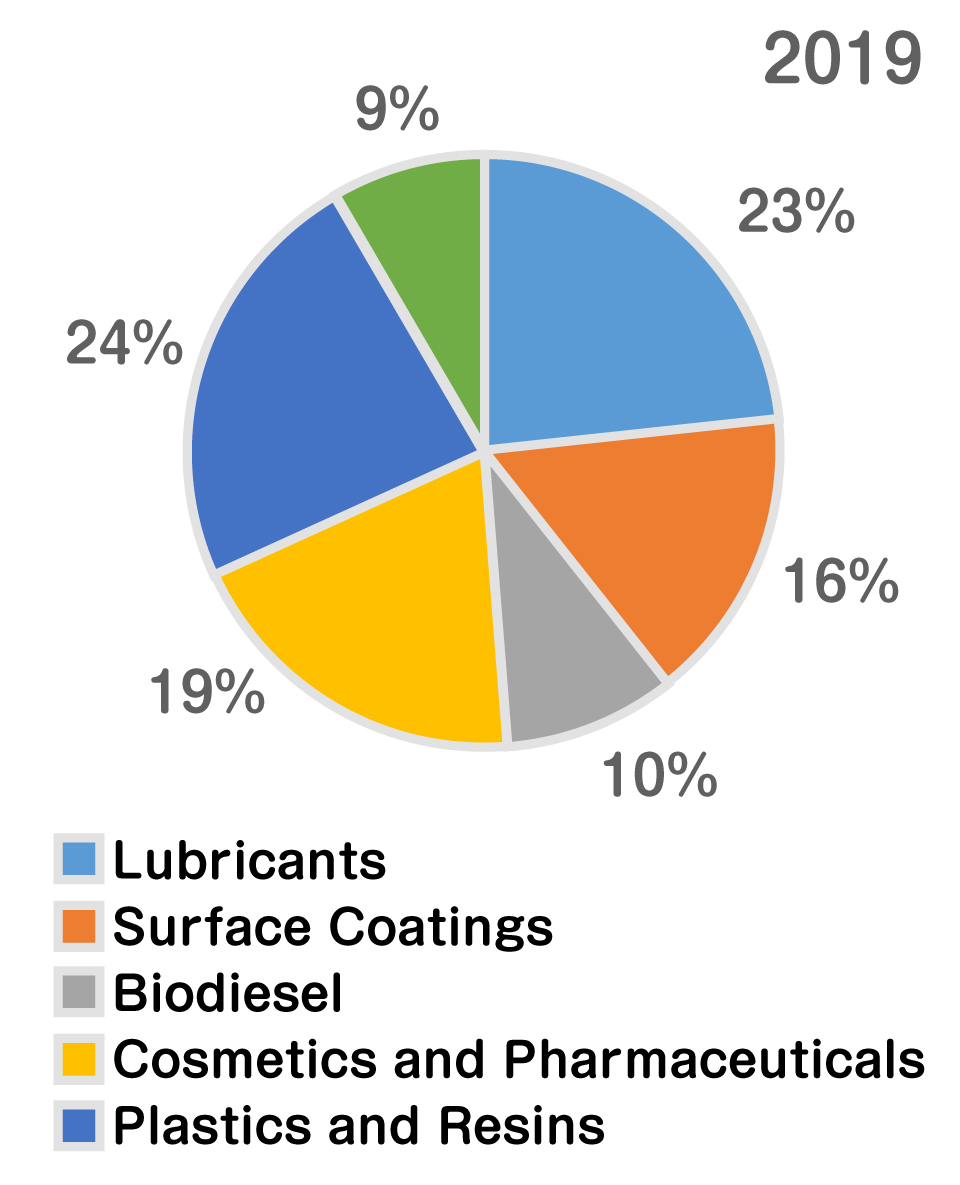 The global castor oil market estimates approximately 740,000 tons in 2020 (* From the market research report "Global market for castor oil: industry trends, market share, scale, growth rate, opportunities and forecasts (2021-2026)") It is said that the world's vegetable oil production scale is over 200 million tons, soybeans (about 57 million tons), grapeseed (about 24 million tons), olive oil (about 33 million tons) (* from data from the Japan Vegetable Oil Association), etc. Although it is very small compared to major oils and fats, it is expected to remain a stable market in the future.
Value Chain of Castor Oil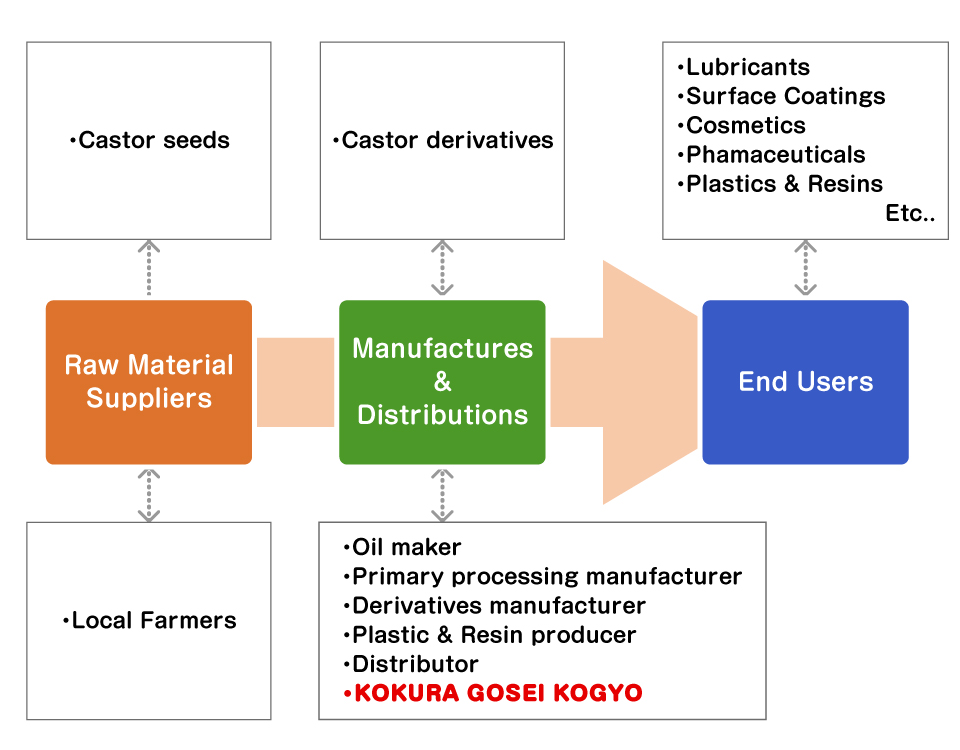 In pharmaceutical applications, castor oil used for detoxification and laxatives.
Castor oil is a very characteristic oil that contains a large amount of unsaturated fatty acids and is widely used as an industrial product. Processed castor oil products are mainly lubricating oils, hydraulic oils, plastics, soaps, waste tempura oil treatment agents (coagulants), paints, inks, waxes, pharmaceuticals, perfumes, and hair oils (pomade and bottled oils). ) Etc. are used as raw materials.
In addition, castor oil is the starting material for sebacic acid, which is the primary raw material for nylon (polyamide), which is a type of plastic. Toxic ricin is also contained in the seed coat, but heat-sensitive ricin is detoxified because it is squeezed at a high temperature when castor oil is squeezed.
In cosmetics, it is used as a raw material for cosmetics such as skin conditioning agents, emulsion stabilizers, and surfactants.
Production flow of Castor Oil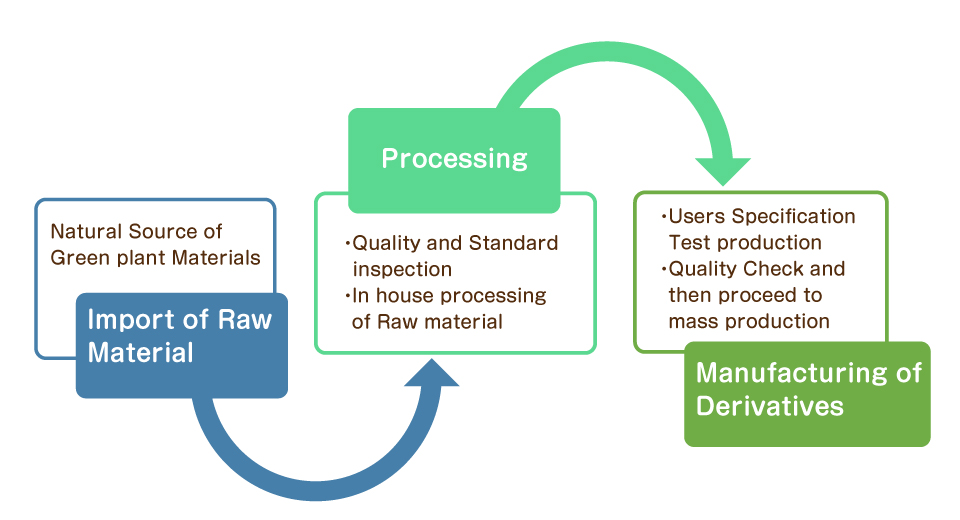 We import 100% castor oil crude from India.
The imported castor oil crude oil is stored in a large tank in our company and then subjected to primary refining. The refining method is very special, and because of natural fats and oils, the fluctuation range of raw material quality is large, and it is our one of our unique strengths, which has accumulated know-how to achieve top grade quality, such as cosmetics and high-quality lubricants. It is a very important process to surely meet the demands of users who place importance on high quality and high stability.
The primary refined castor oil is processed into various derivatives.
Our castor oil derivatives are lighter in color than other companies' products, and in particular, 12-hydroxystearic acid (our product name: 12-hydroic acid) also utilizes our hydrogenation technology for customers who require high quality performance.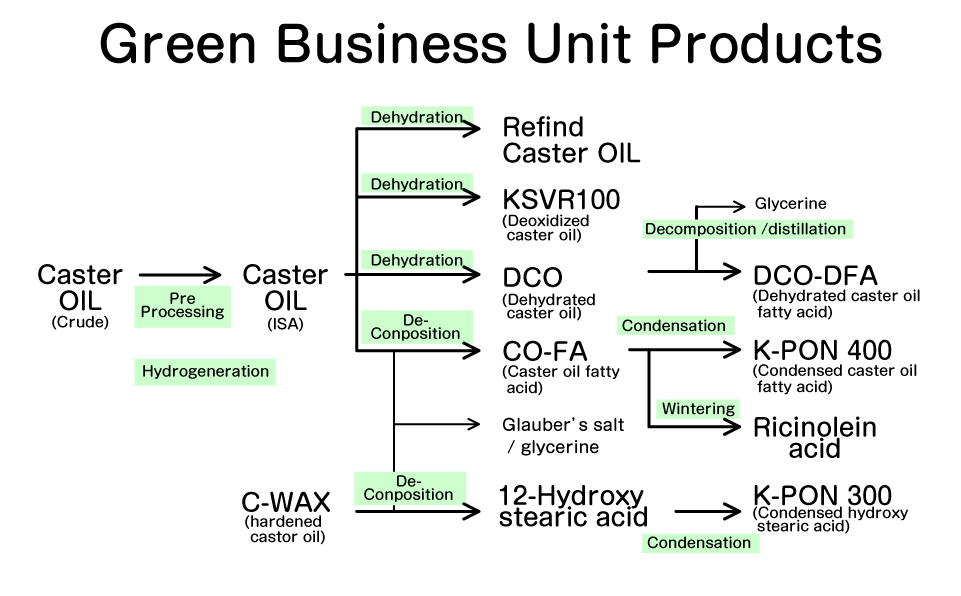 What is Rice Wax?
As one of our contributions to a recycling-oriented society, we produce not only processed castor oil products, but also natural wax extracted from rice bran after milling using our staple food, rice. In Japan, where natural resources are scarce, it is an industrial product that can be consistently and stably produced as raw materials.
The annual production of rice in Japan is about 8 million tons, and the amount of rice bran after milling is about 70,000 tons. The rice bran contains about 20% oil and is marketed as rice bran oil. In fact, rice wax has a short history, and it is a relatively new wax that has been industrialized since the 1960s. Until then, it was used as fuel and did not extract wax. We have been producing rice wax since the 1960s, and use 100% Japanese rice.
Application
Rice wax is edible and its relatively high melting point makes it an alternative to carnauba wax. Main applications are candles, cosmetics (bases for makeup products such as lipsticks and moisturizers), foods (coatings for fruits and vegetables, plasticizers for chewing gum, etc.), daily necessities (waxes and inks for shoes and cars), Carbon paper, plasticizers and brighteners, rubber plasticizers, etc.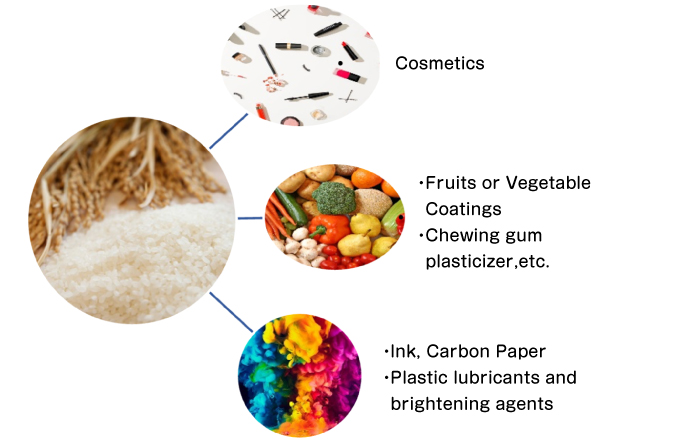 Creating sustainable industrial material from 'Rice'
All of our rice wax "R-WAX" uses domestic raw materials, and it is a unique manufacturing method that does not use hydrogen, and has high purity and high stability compound compared to other products. Although the production volume is very small, it is highly evaluated by our users who demand high quality wax. Compared to cheaper overseas products, our wax has excellent color, wax melting, combustion stability, and strength, and compared to paraffin candles (chemical candles), it has less oily smoke. Since it is a processed product made from plant materials, it can be used as a carbon-neutral material (CO2 reduction) as well.