Green Chemical Business
Focusing on beauty and contributing to a sustainable society with natural oils and fats
What is Green Chemical business
Our Green Chemical business unit refers to manufacturing of chemicals which are obtained from renewable resources such as plants and agricultural means. It also refers to by-products, waste, and an entire life cycle ecofriendly comparing to conventional fossil fuel-derived chemicals.
Green chemical products are recently getting popularity due to the growing awareness of global environmental issues such as lessening the carbon emission, dependence on petroleum, resource depletion, and the response to global warming caused by greenhouse gases.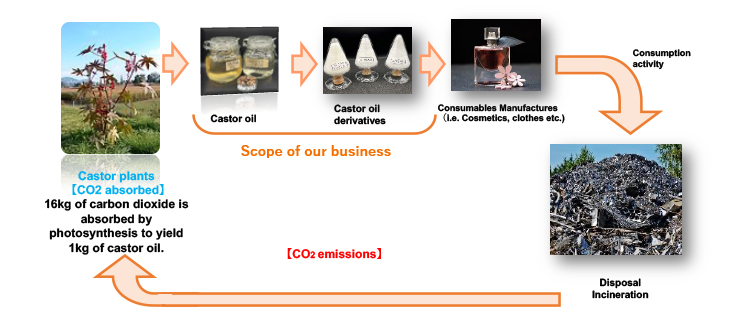 Top quality green chemical manufacturer
One of our prime management philosophies of Kokura Gosei Kogyo. Ltd is to promote carbon-neutral green chemical products and its related R&D activities to contribute to develop a sustainable society.
Since the lifting of oil and fat control in 1947 in Japan, we had been involved in oil and fat science, especially in the manufacturing and developing of processed castor oil products and its derivatives.
Since the 1960s, we have succeeded in mass-producing "sebacic acid," which has been the cornerstone of our company's rapid development. Applying our unique manufacturing method, we established our position as No. 1 quality manufacturer in Japan.